The Jewish Community of Zuidlaren
Source:
"Joods leven in Zuidlaren" by G.C. Hovingh
ISBN 10 90 5294 213 7
ISBN 13 9 789052 942131

Foreword
We do not know exactly when the first Jews settled in Zuidlaren. Jews from Eastern Europe migrated to the Netherlands in the mid-eighteenth century, but in the province of Drenthe they were not always kindly received. There were complaints about some, and one of them was involved in a fight.
But we know that a Jewish resident paid tax as smallholder and butcher in 1764. In 1774 we also come across his son who suffered harassment, when one of his geese was stolen and his windows were smashed. In 1779 he accused a lawyer of shooting his dog.
Jews did not fare so well in Drenthe in general. Residence permits were very difficult to obtain and settling without a permit incurred a heavy fine. In 1782 a so-called residence decree was issued, which allowed no more than three Jewish families to live in a parish. Although these measures were sometimes evaded, it does say something about the situation in Drenthe.
The situation improved in 1796 when Jewish citizens were given the same rights as everyone else, but hostile feelings persisted. A Jewish butcher complained about the theft of hides and a beehive from his yard. Knackers, who dealt with animal corpses, were forced to live on the outskirts of the town because of the stench and fear of pollution. For services on Shabbat and the High Holidays the Jews of Zuidlaren were reliant on the province of Groningen.
Establishing a kehilla
Later on Jews from Zuidlaren, Eelde, Roden – and probably also Norg and Vries – organized services in a 'home' synagogue ('huissynagoge') in Eelde. However all Jewish males from these villages would have to be present, otherwise the required minyan could not be achieved.
In 1814 a new central organization for all Jewish communities in the Kingdom of the Netherlands was established. In fact it had already been in existence in 1808 under the reign of Louis Napoleon, King William I went one step further by appointing the Central Committee for Jewish Affairs (Hoofdcommissie voor de zaken der Israelieten).
As a result six Ashkenazi and two Portuguese chief rabbinates were created. Drenthe initially was incorporated in the chief rabbinate of Zwolle, but was later divided into regional synagogues ('ringsynagoges') – in Coevorden, Hoogeveen and Meppel – which themselves were subdivided into parishes ('kerkgangen').
Zuidlaren – together with Hoogeveen, Zuidwolde and Vries – belonged to the first 'kerkgang' of the Hoogeveen 'ringsynagoge'. Meanwhile the Zuidlaren kehilla had grown. In 1852 Zuidlaren and the Groningen fen community ('veenkolonie') were allowed to become independent of the province of Overijssel. The chief rabbi of Meppel became their spiritual leader. He carried out his official duties with dedication from 1854 until his death in 1888. This had been no easy task, as some of the parnassim (synagogue governors) antagonised him. No-one succeeded him.
From 1860 to about 1869 the Jewish communities in the Netherlands expanded considerably, and the Zuidlaren community grew as well. In 1840 the village had 23 Jewish inhabitants and in 1869 that number had already trebled, although this included the Jewish inhabitants of Anlio/Annen, Eelde and Vries.
In 1883 the community was given permission to establish an independent kehilla, and that same year the first steps were taken for building a synagogue.
The synagogue
The kehilla held its first religious services at a 'huissjoel' in Eelde, as mentioned before.
In January 1884 funds were collected for the construction of a synagogue, a 'mikwe' (ritual bath) and a Jewish school in Zuidlaren. A small plot of land belonging to the local market traders was acquired, and in December it was decided to proceed with construction. Within a short space of time a simple synagogue sprang up on Zuiderstraat 1. A mikwe and small school were probably included, but no traces have remained. In 1884 the Zuidlaren synagogue was officially inaugurated, only a year after the small local kehilla had been established. Sadly it had to be closed down in 1925 because there was no longer a minyan present.
The brick building with its old Dutch roof tiles has a symmetrical façade with decorative bargeboards. At its centre is a modern door with two rosette windows above. Between these is a bricked-in stone from which the original Hebrew text has been removed, probably during the war. The side wall has three arched metal windows. Underneath are three blind recesses with segmental arches. The women's gallery, which was situated above the main entrance, could seat 30 people and downstairs there was space for 40 males. Unfortunately the architectural drawings have not survived.
During the Second World War fifteen Jewish inhabitants of Zuidlaren were murdered in Nazi extermination camps, and in 2000 a plaque in their memory was erected on the synagogue's south wall. In 2005 the synagogue was acquired by the Stichting Oude Drenthse Kerken (Foundation for Historic Churches in Drenthe). After restoration in 2007 it was transferred to the Vereniging Behoud Synagoge Zuidlaren (Association for the Preservation of the Zuidlaren Synagogue). The shul is now used by the Progressive Jewish Community of Northern Netherlands (Progressief-Joodse Gemeente Noord Nederland and for cultural purposes. It is much visited by tourists.
The cemetery
A cemetery and cleansing house ('metaarhuisje') are mentioned in the land registry of 1881-1889. This probably meant that there was already a Jewish cemetery in existence then. The Jewish cemetery of Zuidlaren is situated near the Wolferdinge. Previously Jews from Zuidlaren were buried in the surrounding area or in the province of Groningen. The last burial took place in 1935, although the last tombstone dates from 1929. After that the cemetery was severely neglected. In 2002 there were enough funds to restore it. The cemetery is now owned by the Organisation of the Jewish Communities in the Netherlands (Nederlands Israelitisch Kerkgenootschap: NIK); Jews can be buried there with its permission.
Livelihood
The Jewish residents of Zuidlaren mostly earned their living as butchers, textile traders, shopkeepers, merchants and pedlars. There were of course also those who were in some way connected to the synagogue: the shamash, the shochet, and a teacher for the Jewish school.
Jewish residents of Zuidlaren
| | |
| --- | --- |
| Year | Number of Jews |
| 1809 | 27 |
| 1840 | 23 |
| 1869 | 69 |
| 1899 | 82 |
| 1930 | 25 |
Extracted from source:Yael (Lotje) Benlev-de Jong
Translated from Dutch:Michael Jamenfeld
Review:Ben Noach
End editing:Sara Kirby-Nieweg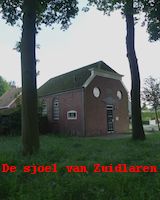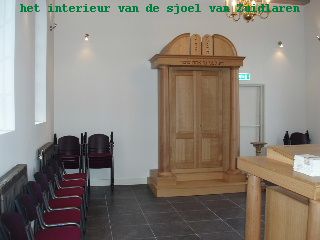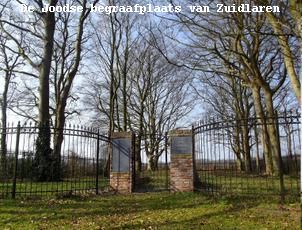 Grotere kaart weergeven