Cantors, Composers of Jewish Liturgical music and Jewish Choir leaders in Holland
Sources:
- Internet
- Jewish Historical Museum Amsterdam
- article by Eldad Kisch and the book on the Mossel family.
Credits at the end of the article.

Cantors
A cantor, Chazzan in Hebrew, Chazzen in Jiddish, is the man who heads the prayers in the synagogue, usually singing traditional melodies. Weekdays, Shabbat and holidays, all have their special melodies.
The long prayers of Rosh Hashana, the New Year, and of Jom Kippur, the Day of Atonement, require a special effort from the chazzan. A known prayer of these days is the "Awinu Malkenu," part of which is sung by the whole congregation.
A cantor should be over 30 years old and well versed in Jewish law. He should be liked by his congregation, he should have a nice voice, and he should understand the Hebrew prayers. He should be well dressed and be without transgression. According to Maimonides these laws apply also to his children.
The term "chazzan" became in use during the middle ages. Talmudic sources mention the "chazzan hakenesset," who was an official with special functions, like the bringing or returning of the Torah, and the blowing of the shofar announcing the start of Shabbat and holidays.
In early times being a chazzan as an occupation was not known. Only during the Ge'onim period, between the years 750 till 1000, such an occupation was created.
Dutch cantors
Several Dutch cantors became known figures.
Isaac Heymann
Isaac Heymann (1832-1906), the son of Pinhas Heymann was an important chazzan in Amsterdam. He was married to Rebecca Goetingen. His composition, "Psalm voor Mannenkoor" (1899), Psalm for a men choir, dedicated to Queen Wilhelmina, became famous and was printed and published. In 1856 Isaac received the honorary title of "main cantor." In Jewish circles he was called: The "Gneser Chazzen."
Solomon Rozumni
Solomon Rozumni (1866-1904) came to Holland from Odessa.
Benzion Moskovitz
Benzion Moskovitz (1907-1968) was born in Hungary. He started as a jeweler, but from 1939 he became a known chazzan in the Lekstraat synagogue in Amsterdam. He received the "chower title", an honorary title bestowed by the Chief Rabbi's for exemplarily services to the Jewish community. He also was a mohel. He was buried in Muiderberg and later on his body was brought to burial in Israel.
Salomon Frederik (Salo) de Jong
Salo de Jong (1897-1945) started as a chazzan in Zandvoort. He also functioned as a chazzan in Manchester and Mannheim. Afterwards he sung in the Linaeus Shul in Amsterdam East. People called him the "Chazzen van Oost." He sang traditional as well as modern chazzanut.
According to Soetendorp de Jong created a new style of the religious service in the Netherlands. He published a book on chazzanut. His work has been recorded on several CD's.
In Bergen Belsen he sang on the Seider evening. He died in Troebitz in 1945.
Pinchas Wolf Reisel
Pinchas Wolf Reisel (1881 Latvia-1934 Sobibor) was married to Sonnie (Sonja) Wigdorowitz.
He learned chazzanut in Berlin and from there he moved to Amsterdam where he became the main chazzan in the "Nieuwe Shul" – the new synagogue. In daily life he worked in the diamond trade.
In 1917 he founded a society to promote Jewish music.
He was so popular that on the High Holidays there was no place to enter the synagogue. During the Jom Kipur service in 1928 somebody threw a stone through the window, because people standing outside the synagogue also wanted to hear him pray!
Meijer Mossel
Meijer Mossel (1910-1978), the youngest of five Mossel brothers was a teacher. His was married to Dora Roos (1909-1983).
They and their children were hidden during the war and survived.
Meijer started as a Jewish teacher in Amsterdam, but after the war he moved to Maastricht, for financial reasons. From there he moved to The Hague, where he functioned as a chazzan.
Thanks to him the bulk of Dutch chazzanut from before the war, collected by him, passed to future generations.
After his retirement the couple considered to move to Israel. They stayed in Holland because Dora did not know Hebrew and Meijer found it difficult to get used to the Israeli mentality.
Hans Boemendal
Hans Bloemendal, born in 1923, was a scientist and a chazzan. He started in Fulda, Germany, as a chazzan and composer, and painted as a hobby. In 1937 he fled with his sister to Amsterdam. During the war he was hidden by a Dutch family in the Uitwaardenstraat in Amsterdam. He survived the war, but his parents and only sister did not.
He became a professor, teaching biochemical research at the Radboud University in Nijmegen, specializing in the eye lens and also functioned as chazzan in the Jacob Obrechtplein synagogue in Amsterdam. His chazzanut has been recorded on several CD's. At the age of 65 he received the honorary title of main cantor.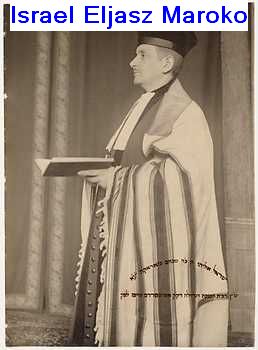 Israel Eljasz Maroko
Israel Eljasz Maroko, born in 1896 in the village of Zdunska Wola in Poland, was a known chazzan in Kulisz, Tarnov and Bratislava. In 1926 he became the main cantor of the Great Synagogue of Amsterdam. The Jewish weekly, the NIW, reported that another famous cantor, who was also interested to become a chazzan in Amsterdam, had no chance, because he was a baritone. The Jews of Amsterdam preferred tenors and Maroko was a tenor with a lovely voice.
He married Rajzel Nejman. They had four children. One son was hidden during the war and survived, but the rest of the family was killed in Sobibor in 1943.
Before the war Jewish liturgy was recorded in writing. Maroko took a very active part in this project. One original page of music, "Chad Gadia", the famous closing song of the Seider ceremony,written by Maroko himself, has been saved and was presented to Yad Washem by Ruth, the daughter in law of Maroko. A short time before Pesach 2013, a photocopy of this page was given to Barak Obama, the president of the U.S.A , during his visit to Yad Vashem in Jerusalem.
Jewish musicians and composers of liturgical music
Several Jewish musicians and composers of liturgical music were known in the Netherlands. Here we mention S.H. Engelander, Aron Wolff Berlijn, the Jewish Male choir from The Hague and Hans Krieg. In this connection we also mention Jacob Hamel, although he did not compose liturgical music.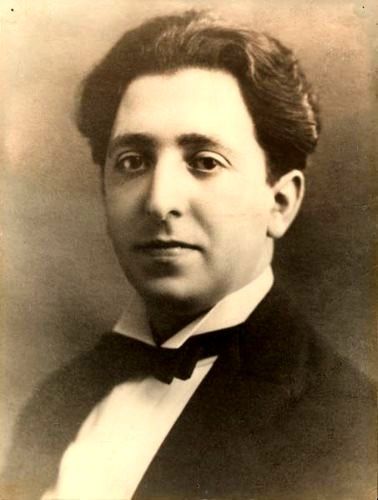 S.H. Engelander
S.H. Engelander was a known chazzan who conducted the choir of the Great Synagogue of Amsterdam. He also was the conductor of the "Arbeiders-Zangvereniging" (the Song Association of Workers). As a socialist he believed in the rise of humanity, and as a musician he tried to bring the cultural value of music to the masses.
"As the mythological Orpheus he could not leave and so he became a sacrifice of the barbarians."
He was killed during the war.
Aron Wolff Berlijn
Aron Wolff Berlijn (1817-1870) was born in Germany. He was influenced by Dr. Louis Spohr. As a child he played already violin and piano, and he started composing at a very young age.
In Holland he composed "the Miners." King Willem II showed interest in his work and in 1845 the King honored him with the Golden Medal for Special Merit, for his cantata "Les Matelots au Rivage."
His work was also performed in Paris, in his presence. After his stay in Paris he paid a visit to Felix Mendelsohn-Bartoldy with whom he stayed some time.
Upon his return to Amsterdam he got a permanent position as a concert master, but after some time he left this position, which took too much of his time.
In 1849 he was honored by the "Academia di Santa Cecilia" in Athens with an honorary membership.
His compositions were also performed in Amsterdam.
His achievements in the field of Jewish music were remarkable. He wrote festive cantatas for the inauguration of the Israelite Girls and Boys orphanages in Amsterdam, he composed music for the synagogues in Weesp, Haarlem, Den Haag and Arnhem and for the second inauguration of the Great Synagogue in Amsterdam. He died suddenly in 1870 after forty years of creativity.
Hans Krieg
Hans Krieg (1899-1961), born in Heynau, Silesia, came from a musical family. His grandfather was a chazzan and his grandmother a piano teacher. He started composing when he was only eight years old. When Hans became 17 years, the known conductor Julius Praewer became so impressed with him that he decided to take care of his musical education. For two years Hans studied with Praewer mastering the skills of a composer and opera conductor. He continued his studies at the Leipziger Conservatorium and added another two and a half years at the Sate Academy for music in Berlin.
Afterwards he became a choir conductor and composer in Rostock and Plauen. He left Plauen as a result of antisemitism there.
Via Zurich he returned to Breslau. In 1933 he fled with his family to Amsterdam, hoping to find a safe haven there. During the war he was arrested and transported to Westerbork, where he organized a cabaret. Afterwards he was moved to Bergen Belsen, where he continued his musical interest and where he dedicated much time to the musical education of young people there.
He survived the war, but he found it difficult to rebuild his life. He was a sensitive person and very vulnerable, but he had an iron will and he was able to return to his musical creativity. His important research regarding the place of the Jewish song in the musical life of Dutch Jewry became well known.
In 1946 he received the Ernst Bloch award, which gave him renewed inspiration.
As mentioned before, he liked to work with children. In Apeldoorn he gave music lessons to 500 children.
He collected and published Jewish melodies and stimulated Jewish choir music. In April 1947 he reopened the Jewish Male Choir of S.H. Engelander in Amsterdam, which he conducted himself and a year later he founded a women choir.
He was disappointed because the Jewish organizations were indifferent and sometimes even rejected his initiatives of raising interest for Jewish choir music and Jewish concerts.
He collected more than fifty Hebrew songs and fifty five Jiddish melodies, and prepared more than forty concerts for choir. He composed instrumental and choir music and became also known outside the borders of the Netherlands, like the Hebrew Union College in Cincinnati and in New York, and in the Hebrew National University library in Jerusalem.
He suddenly died in 1961, when he was 62 years old.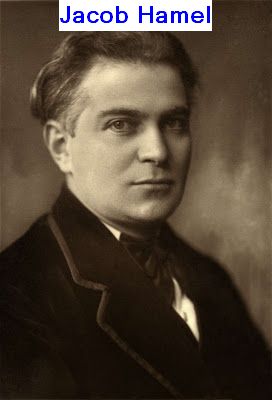 Jacob Hamel
Jacob Hamel (Amsterdam 1883-Sobibor 1943) received his first violin lessons when he was only six years old. When he was 16 years old he sang in the male choir "Zanglust." At the age of 17 he became the conductor of the mixed choir "Arti et Charitate."
From 1929 he worked for the AVRO radio station, where he conducted the AVRO children choir. At the start of the war he was almost immediately fired by the antisemitic AVRO director Willem Vogt. He died in Sobibor in July 1943.
After the war the children choir of the AVRO was continued as "the children choir of Jacob Hamel."
The Jewish men choir of The Hague
We could not find many details about this choir and we even do not know who conducted it.
We do know that a special performance was dedicated to the Queen-mother Emma, and that the income was donated to the "Oranje Nassauoord." They also gave a charity concert for the Emma fund. This performance was honored by the presence of Queen Wilhelmina, Prince Hendrik and the Queen mother Emma.
Composed from the sources:Yael Benlev
Translation:Mechel Jamenfeld
Editing:Ben Noach
Final review:Hanneke Noach
Sources of photos:Israel Eljasz Maroko
Community Joods Monument


[The source adds that it has been tried to trace the owner of the picture with no success.
We repeat this remark.
If somebody claims any rights to the picture, we should be notified, so it can be removed]
S.H. Engelander: http://claude.torres1.perso.sfr.fr/Pays-Bas/AutresCompositeurs.html
Jacob Hamel: http://groenegraf.blogspot.co.il/2013/02/baarns-meisjeskoor-van-jacob-hamel.html